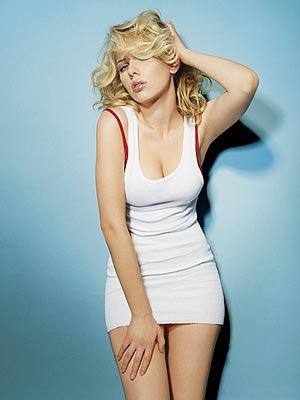 Sexy actress Scarlette Johansson has lashing out at critics who like to label her a "harlot" just because her appearance fits the image. The Hollywood star who has been likened to late screen star Marilyn Monroe, thinks the fact she is curvy and has blonde
locks lays her open to harsh criticism regarding her sexual morals. But the Lost In Translation star insists she doesn't sleep around or have any sexually transmitted diseases (STDs). She says, "I have platinum blonde hair, and I'm extremely curvy: I pour myself into a dress and show up and strut my stuff at premieres.
"Of course I expect people will have certain ideas but it's weird if people associate the fact that I sell handbags or wear a bikini with who I am when I wake up in the morning. "People think I'm going to be some brazen harlot, but I'm not out there with every Tom, Dick and Harry or catching hepatitis."
Labels: GOSSIP, JAMES EDSTROM, SCARLETT JOHANSSON